Brendan Bradley (Brad) 1956 – 2005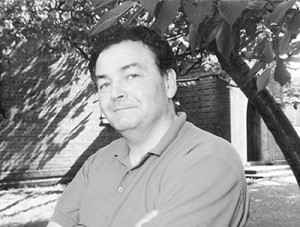 Brendan Bradley, known locally as "Brad", was a founding member of Survivors of Trauma and a key community activist in and around the North Belfast area.
Brad, the second youngest of 14 children, was born and grew up in Ardoyne where he was to become a great advocate and tireless campaigner for local issues. Until his untimely death at the age of just 48.
Many people in North Belfast suffered greatly as a result of the troubles, however the consequences for Brad were profoundly tragic as the violence claimed the lives of four members of his family in four separate incidents.
In spite of all this, Brad would seek out strength for positive change and became the inspirational leader and architect behind a number of significant community initiatives, such as: The North Belfast Fleadh, Cultural Society as well as being instrumental in establishing Bunscoil Bheann Mhadagain and Ardoyne/Bone Playground Committee.
Brad also had great vision and worked strategically on a number of sub-groups and panels – Community Relations Council, Trauma Advisory Panel and funding selection bodies.
Brad was a keen musician and will always be remembered for his love of Irish culture, language and music.
Brad is a huge loss to the local community, he once said when contributing to the book "Journeys of Courage" – When dealing with grief we cry so releasing the pain through our bodies, but laughter is the healing of our souls
Brad was my brother and my friend, he was younger but wiser, I will never forget his sense of humour he always had time for everyone
He had come through it all and understood what families were going through, we knew that we could rely on him. My mother always looked forward to her yarns with Brad.
Is doiligh chuimhneadh ar Brad gan smaoineamh ar cé chomh dian agus a d' obair sé ar són mhuintear Bhéalfeirste Thuaidh ar fud a shaol. Bhí pléaneanna I gconaí ar shiuil aige chun thairbhe a bhaint amach don ghnath duine. Bhí suim ar leith aige i gcúltur na hEirinn, teanga, cheoil, rinnce etc. Shaothraigh sé go crua ar a shón sin a chur i gcrioch. Ba duine é Brendan a bhí i gconaí gealghaireach agus deisbhealach. Bhí am aige chun labhairt le duine ar bíth chun chuidíu a fhail fana chuid sceimeanna agus réidh fosta le daoine faoina chuid chruachasanna. Is mór an chailliunt é Brad do mhuintear Bhealfeirste Thuaidh. Ar dheis dé go raibh a anam